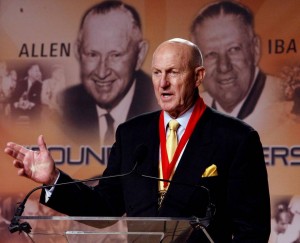 COLUMBIA, Mo. (Mizzou Press Release) – Mizzou Men's Basketball legend Norm Stewart's life will be chronicled by ESPN Films for its SEC Storied series on Sunday, May 1, with the premiere of "Norm". The documentary focuses on Stewart's early days as a student-athlete at Mizzou, his run of success that impassioned the state of Missouri towards Mizzou Basketball and his ongoing work to defeat cancer.
Former Mizzou standouts from throughout Stewart's coaching tenure sat down with ESPN cameras to tell their own personal tales of Stewart's impact on their lives. Head coach Kim Anderson, who starred for Stewart during his playing days in Columbia (1973-77), accurately summed up what his former coach has meant to Mizzou fans with his comments for the documentary.
"He's a one name guy," Anderson said. "You say 'Norm', they know who 'Norm' is."
"Norm" is the 25th film in the SEC Storied library and was directed by Fritz Mitchell. It will make its debut on the SEC Network on Sunday, May 1, at 8 p.m. CT.
Mizzou fans will have a special chance to see the documentary prior to its premiere at Mizzou Arena on Friday, April 29, with a free public screening at Noon. Fans are instructed to park in Lot P directly south of the arena and proceed through the main south doors, which will open at 11:30 a.m.
"Our friends at ESPN did a wonderful job telling Coach's story," Anderson said. "This documentary is something Mizzou fans and even fans of college basketball in general won't want to miss."
A panel of former Mizzou players under Stewart will discuss the documentary and their coach prior to the start of the 50-minute film. Those attending are asked to sit in Section 106. Light refreshments and popcorn will be provided, but fans are encouraged to enjoy their own lunches during the screening.
"Norm" Synopsis from ESPN
In the spring he threw a no hitter for the University's baseball team. In the winter he led the basketball team in scoring. That summer he married the homecoming queen. In 1956, on the University of Missouri campus, Norm Stewart was the man. Unlike most big men on campus, whose exploits drift into folklore Norm's best days at The University of Missouri were ahead of him. In 1967 the Shelbyville, Missouri native would become the Mizzou men's basketball head coach.  As much as his program leading 634 wins endeared him to the fans, his fiery style and loyalty to the state that raised him have made "Norm" a Missouri legend.
For all the latest on Mizzou Men's Basketball, stay tuned to MUTigers.com and follow the team on Twitter and Instagram (@MizzouHoops).