MILAN, Mo. — An economic impact analysis on the East Locust Creek reservoir shows significant benefits for surrounding counties. KMZU's Andy Campbell spoke with General Manager for North Central Missouri Regional Water Commission Brad Scott: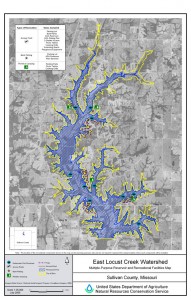 The analysis was done in 2005 by the Natural Resources Conservation Service (NCRS) and Missouri Department of Natural Resources (MDNR). With plans of a new redesign underway for the, the MDNR updated the report and presented it to the North Central Missouri Regional Water Commission in early July.
NCMRWC General Manager Brad Scott, says the lake is a critical asset to the region.
"If you look at Missouri's geology, and where public water supply wells are, you'll notice that there's none in north central Missouri," Scott says. "That's because our underground aquifers don't provide enough water, and what we do have is brackish."
Scott explains, this means the main purpose of the East Locust Creek Reservoir will be water provision for the area. He says with better water supply, local businesses will grow.
"We would like to invite another of large industries into the region, and we simply did not have enough water to provide to those large industries," Scott states. "The Reservoir will open up vast opportunity for economic development, beyond even the scope of the study."
Over 90 percent of the land for the redesign has be acquired, and Scott says the next step is getting the permits.
"The clock started ticking in January, and that can take from 18 months to four years to accomplish," Scott says. "We hope to get it accomplished within two years."
Scott adds other tasks can be accomplished in the meantime, from engineering to clean up activities, but construction cannot start until permits are approved.
The Reservoir would provide economic benefit, both short term through construction, and long term through operation and maintenance to the following counties: Adair, Chariton, Grundy, Linn, Livingston, Macon, Mercer, Putnam, Schuyler and Sullivan.