BUCHANAN COUNTY, Mo— A regional attraction gets renewed after falling victim to vandalism.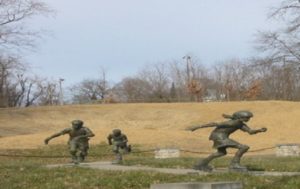 A roller skater statue, one in "The Catch Me if You Can" series of roller skater statues along The Northwest Parkway, was stolen in Saint Joseph. Mary R. Hinde, president and CEO of The Community Foundation of Northwest Missouri, says the statue was too important not to replace.
Hinde says fundraising did have its difficulties.
In the end, northwest Missouri rallied in support of regional art and the replacement statue can be seen skating with its companions, once again, along The Northwest Parkway by Corby Pond.