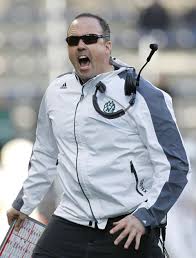 SAN ANTONIO, Texas (Press Release) – Northwest Missouri State Unviersity head football coach Adam Dorrel has been named the 2015 American Football Coaches Association (AFCA) Division II Coach of the Year. Dorrel led the Bearcats to a perfect 15-0 record and the NCAA Division II National Championship. He was also honored by the AFCA as Coach of the Year in 2013 when he captured his first National Championship as head coach of the Bearcats.
Northwest captured the program's 27th MIAA title en route to its fifth NCAA Division II Championship, the most among active Division II institutions. The Bearcats finished the season ranked first nationally in scoring defense (12.3 ppg), total defense (224.0 ypg), rushing defense (59.3 ypg), third down conversion percentage defense (24.3 percent), team sacks (4.00 spg) and team pass efficiency defense (87.81).
The current balloting procedure involves selection of 25 regional winners: five regional winners in each of the five divisions – FBS, FCS, Division II, Division III and NAIA. Following regional voting, five national winners – one from each division – are chosen. All schools with eligible AFCA head coaches are listed on the national ballots and members are not limited to voting for regional winners.
The AFCA Coach of the Year award is the oldest and most prestigious of all the Coach of the Year awards and is the only one chosen exclusively by coaches. The award started in 1935 with the Division II Coach of the Year first being named in 1983. Clemson's Dabo Swinney (FBS), Jacksonville State's John Grass (FCS), St. Thomas' (Minn.) Glenn Caruso (Division III) and Marian's Mark Henninger (NAIA) joined Dorrel as 2015 AFCA National Coach of the Year winners.