MISSOURI, Mo – The total number of flu cases recently hit 1,500 in Missouri, including 3 reported flu-associated deaths.
As people begin to gather for parties and holidays events, make sure you are spreading holiday cheer, and not the flu.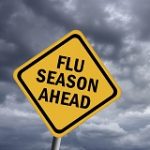 The Missouri Department of Health and Senior Services wants the public to know the dangers of the flu and how important seasonal flu shots are. Dr. Randall Williams explains that only 45 percent of Missourian receive flu shots, but that number is rising.
For more information of this year's flu shot and health implications of the flu, listen to Thursday's Newsmaker.