JACKSON COUNTY, Mo. — An accident on Interstate 70 in Jackson County sent an Oak Grove driver to an area hospital Sunday.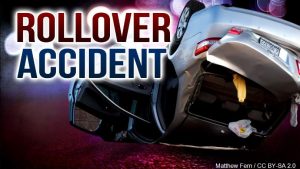 The Highway Patrol responded to I-70 eastbound at the 22.8 mile marker at about 7:20 p.m. Sunday to reports of a single-vehicle wreck.
Upon arrival, troopers found that a vehicle operated by Laura L. Milam, 45, was cut off by a second vehicle, whose driver was not identified in the report.
Milam attempted to avoid a collision and went off the right side of the roadway. Her vehicle then struck a ditch and overturned, coming to rest on its top. According to the crash report, she was not wearing a safety device when the accident occurred.
Milam was moderately injured and taken to Centerpoint Hospital to be treated.