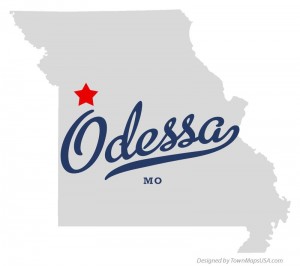 The Odessa Board of Alderman meeting November 9, 2015 was a relatively short affair.
The Cub Scout troop 286 led the board meeting in the Pledge of Allegiance.
One of the first items of business was the passage of the Consent Agenda which Alderman Bellington recommended approving.  He also mentioned the Finance Committee was looking for a new director.
Mayor Adam Couch gave his regular report.
No Old Business was scheduled.
In New Business an action was considered to allow the city to enter into a revised agreement with the Missouri Public Utilities Alliance.  The matter had been suspended at the last meeting with questions regarding whether the new agreement would rescind any articles in previous agreements or ordinances pertaining to the alliance.  City Administrator Mickey Ary said it would replace other agreements since it involves new members with a corresponding restructuring of districts for the mutual aid program in which municipalities receive assistance from other members in the event of an emergency or natural disaster.
A proposal was presented from an Eagle Scout for a project that would restore and paint the pavilion at the reservoir.  The board approved the idea with the proviso that nothing be done with Bar B-Q grills, since a plan to recycle, and relocate other units would easily solve that problem.
The city of Odessa may be saving money on public water equipment.  Tom Stechmann, with Utility Service Company in Liberty, presented to the board a discussion centered on the purchase of three variable frequency drives to be used with city tanks.  A previous plan to purchase outright had been superseded by another to rent the units.  The final idea presented by Stechmann was received favorably.  USC would initiate a maintenance program in which responsibility for the maintenance would fall on the company instead of the city.  The first ten years would see annual payments of over 5000 dollars, to be reduced to around 2200 dollars in subsequent years.  Alderman Bellington believed the new plan makes more sense than previous ideas.  No official action was taken by the board.
The city Administrator's report ended the meeting which then entered into a closed session.