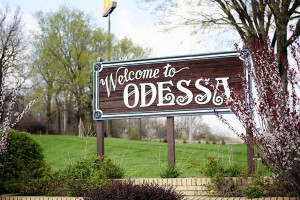 ODESSA, Mo – The Odessa Board of Aldermen met Monday evening, October 26, 2015.
Mayor, Adam Couch did not attend the proceedings.  Acting as Mayor Pro Temp, Alderman Bellington called the meeting to order after a public hearing regarding a zoning change.
With no public comments at the hearing, the regular meeting commenced with the passage of the consent agenda.
Scheduled public comments were heard from the owner of the Lindo Mexican restaurant at 115 W Mason Street who complained about the state of sidewalks.  He considered it a main thoroughfare to the library and stated it was a liability problem the city should correct since, in his opinion, the city was responsible for its disintigration through its snow-removal procedures.
Alderman Stevens presented a revised ordinance regarding the proposed public smoking ban which takes into account recent public comments voiced at a public hearing in September.  Stevens considered the revision "completely different" from the original draft.
A zoning change requested by the Planning and Zoning board was passed as well as a request by Concordia Bank to join two lots
Several city purchases were also approved at the meeting.  A truck to be used in conjunction with the wastewater treatment plants was passed 4-2 with Aldermen Bellington and Stevens dissenting who were in favor of obtaining concrete estimates for vehicles used at the plant.
The purchase of two salt and sand spreaders were also approved unanimously.  City Administrator Ary commented the 'team leaders' were working on better plans for the care and sustained maintenance of the city fleet.
An agreement with the Missouri Public Utility Alliance was approved after questions about whether it replaced a previous agreement.
In the Administrator's report various updates on city projects were presented to the board with special focus on the McDowell Street culvert.
The meeting adjourned to move into closed session.
Visit cityofodessa.com.