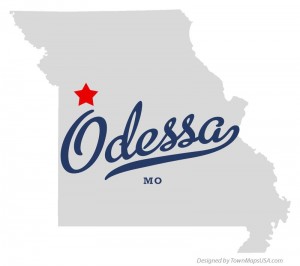 ODESSA, Mo – A meeting of the Odessa Board of Aldermen heard much discussion of pending plans by several citizen volunteer groups.
Several public comments were heard, including one resident complaining of accumulated "junk" in a neighbor's yard.  Administrator Ary promised to look into the matter in order to determine whether the city had jurisdiction to enforce any type of cleanup.
Mayor, Adam Couch gave his report which ended with the swearing-in of new reserve officer, Lincoln Pruitt.

A discussion then began regarding the future of the former EMS/Police building.  Potential uses for the space was briefly talked about.  However, it was decided that the building had to be completely demolished, regardless of what the space might be used for.
The board decided to authorize city officials to work with volunteers of Downtown Odessa to find a way to accomplish the demolition in an expedient and inexpensive manner.
Downtown Odessa spokesman, Ryan Watkins also made a presentation of an event planned in June.  'Eat in the Street'  is part of a fundraising effort, combined with expected grant monies to be used for city improvement.  Three requests included the closure of a 4-way intersection downtown, the waiving of an alcohol ordinance, and free access to city power sources.  The board approved all requests.
A request by Ioana Rosales for extension of hours at the Community Building for a family function was also approved.
The community organization, 'I Love Odessa' volunteered for some refurbishments of the Community Center which were also approved, as well as $250 for supplies.