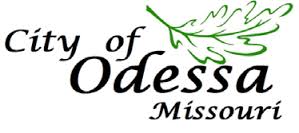 ODESSA, MO – At a meeting of the Odessa Board of Aldermen Monday evening, contractors came forth with their final recommendations for the Overflow Basin project at the Southeast Waste Water Treatment Plant.  Two change-order requests were recommended by contractors for the removal of excess material outside the original scope of the project, and possible installation of an under-drain.  The cost was projected at just under $92,000, not to exceed that cost, which may still be approved for CDBG funding.
Bids were reviewed by the new city administrator, Nici Wilson, for removal of the old police and EMS building.  Only one of six bids offered more money for the structure than the cost for removal.
Aldermen approved the request.  Last year, aldermen voted to gut the building, in order to preserve the possibility of using the remaining shell for other purposes.  An interested civilian task force had been employed to review options.  At the meeting last night, Alderman Stevens suggested passing the responsibility from aldermen, to the Parks Department.
Water and sewer infrastructure was an issue brought up by   Lee Zell, with the National League of Cities.  Normally, the public part of the system would be under discussion, but instead, Zell cited the connection between the private portion of the infrastructure, and its influence on the entire public system.
He introduced to the board a program geared toward educating citizens of their part in the upkeep of water and sewer lines.  For a small monthly fee, participants would immediately have financial coverage of potential future emergency repairs for their portion of the system.  Citizens can opt out of the program at any time.  A resolution may be brought before the board at the next meeting.
The resolution of a class action suit against TracFone would leave the city with just over $7,391, a portion of which will go back to Missouri Municipal League for their role in continued advocacy efforts in the interest of member cities.
The board approved the waiving of curfew in preparation for the 29th annual Odessa Rodeo.
Waiving of permit fees was allowed by the board for planned events in March during 'I Love Odessa'.  Major construction projects, food collection, and yard waste disposal are among the services performed by sister churches every year to benefit Odessa.  City officials have yet to work out a proposal for potential yard waste collections, after the closing of the reservoir for that purpose.
City Administrator, Nici Wilson gave her report.