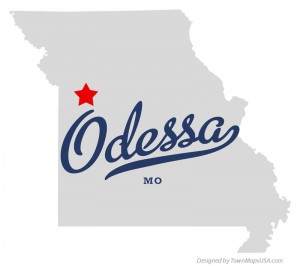 The Odessa Board of Aldermen met for a short regular session February 8, 2016.
Regular financial business was concluded without much discussion.
Mayor, Adam Couch gave his report.
In other reports, Alderman Lockhart observed that the state of the flag in front of the Community Center was very poor, and it needed to be replaced.
During new business, a Missouri Communications Assistance Grant was considered, which would be used to obtain upgraded radio equipment for many city departments.  A federal push toward a digital conversion of all communications equipment provided some impetus for the grant.  Though the grant would cover the prohibitive cost of the radios, which is upwards of $6,000 dollars each, Alderman Bellington said the city might still need to devote monies toward maintenance of the equipment.
That approval was a last-minute addition to the agenda, since the application is due on the 15th of February.  A motion for authorization was passed unanimously.
The city approved the purchase of a 2013 Dodge Charger for the police department.  It was considered more financially sound that repairing one unit that had been damaged in a crash recently in the department's parking lot.  The cost, considering insurance payments, deductibles, and payment for scrap, will amount to a positive figure of over $800.
The board reviewed a proposed contract with the Fraternal Order of Police, Mid-Missouri Lodge 16.  Negotiations on proposed changes to the contract went well according to City Administrator, Ary.  However, Mayor Couch informed the board, negotiations may not be over.
The board eventually conformed to the advise of legal council, which suggested that non-action could be interpreted as a lack of seriousness on the part of the board.  The current contract was approved, which allows the Lodge to take official action in response, to either approve, or request further negotiations.
Administrator's report.