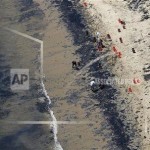 GOLETA, Calif. (AP) —  Officials say more than 7,700 gallons of oil has been raked, skimmed and vacuumed from a spill that stretches across 9 miles of California coast — just a fraction of the crude that escaped from a broken pipeline.
Coast Guard Lt. Jonathan McCormick says additional crew members and boats will be added to the cleanup effort Thursday along the Santa Barbara coast.
Light winds and calm seas are predicted, which officials say help those assessing and collecting the oil.
Up to 105,000 gallons may have leaked from the ruptured pipeline Tuesday, and as much as 21,000 gallons reached the sea.
Workers with Plains All American, which runs the pipeline, and federal regulators hope to begin excavating the pipe Thursday and get their first look at the breach.