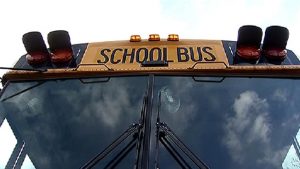 BLUE SPRINGS, MO – Investigators looking into Thursday's bus fire say the cause of the fire is suspicious.
Police have one person in custody, and believe the fire was intentionally set.  Extensive damage was reported to the interior of the bus used by Blue Springs School District.
Five students and the driver were able to evacuate to safety yesterday afternoon, while the bus was fully engulfed in flames, according to the driver.