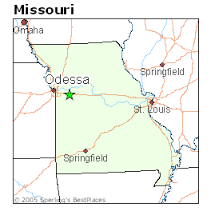 ODESSA, Mo – At the Odessa board of Aldermen meeting Monday night, March 14, 2016, the board gave approval to a final change order to a contract for construction at the northwest wastewater treatment plant.  The order would effectively wrap up the project, the bill for which will be $9,445,533.  Previous change orders had drawn from a contingency allowance of $100,000, of which, less than $40,000 was used.  The remainder will be returned to the city.
A new project for the improvement of Johnson Drive will require 1,200 ft. of street reconstruction, and 1000 ft. of water line and sanitary sewer improvements from Main Street to Dryden streets.  KAT Excavation, which is putting finishing touches on the northwest wastewater treatment plant, the  was awarded the bid for the project.
Mayor, Adam Couch issued a proclamation naming March 29th as Welcome Home Vietnam Veterans Day.  In a March 10 ceremony at the public library with Vietnam veterans in attendance, the proclamation was issued, and delivered again to the Aldermen Board during the meeting.
City Administrator, Mickey Ary gave his report.