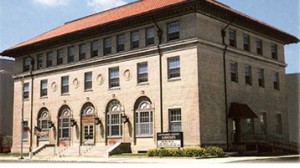 CHILLICOTHE, Mo. — The Third Annual "One Read Livingston County" program will kick off in October, and this year's literature revolves around World War I.
"We're excited this year because we've picked a title that coincides with the 100th anniversary of World War I," Livingston County Director Robin Westphal said.
All Quiet on the Western Front by Erick Maria Remarque is set during the first World War. According to Westphal, the library works to put together programs that allows patrons to connect with history, not just read about it.
"Our circulation of print books is going down," Westphal said. "It's not that we're not offering wonderful materials, it's just that society is changing and the way people read is changing."
To kick off this year's "One Read" program, the Livingston County Library is taking a trip to the World War I museum in Kansas City. The goal is to bring participants directly to the history.
Westphal claimed this year's selection was a difficult choice, but the library looked to creating conversation and discussion around the topic of the book.
"All Quiet on the Wester Front I think is going to illicit discussion about warfare, and really what the impacts of war are, not only on the soldiers, but on the families."
For more information about the trip to the World War I museum or the "One Read Livingston County" program, contact Robin Westphal at the Livingston County Library, 660-646-0547.