LAFAYETTE COUNTY, Mo. – A passenger was hospitalized after an accident in Lafayette County early Thursday morning, November 12, 2015.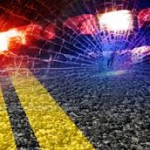 According to the Missouri State Highway Patrol, the accident occurred on Route D, South of Happy Hollow shortly before 1:00 a.m. today. A vehicle driven by Brandon Kavanaugh, 20, of Bates City was southbound when it traveled off the left side of the roadway, struck an embankment and overturned.
Elicya Florez, 19, of Bates City was transported to Centerpoint Medical Center with serious injuries.