MORGAN COUNTY, Mo. – A one vehicle crash in Morgan County early Saturday morning, sent the driver to an area hospital.
According to the report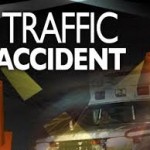 from the Missouri State Highway Patrol, Jeremy Riggs, 23, of Sedalia was southbound on Highway 5 near Highway 50, just before 2:00 a.m., when he ran off the left side of the roadway. The vehicle then skidded back across the roadway, overturned and struck a fence.
Riggs was transported to Bothwell Hospital with moderate injuries.