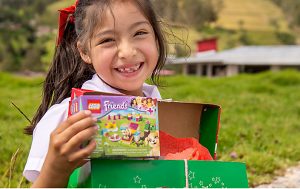 CARROLLTON — Southside Baptist Church in Carrollton is participating in making not only the holidays, but all year, special for kids around the world by serving as a drop-off location for Operation Christmas Child.
Mary Davis, a Southside Baptist Church drop-off leader, explains how the operation got started.
Shoeboxes are filled with donated items and taken to special drop-off locations to be collected. The website for the operation gives suggestion on what to provide. The gifts are delivered all year-round and participants can choose to follow your box to discover which country your gift was delivered to.
Other churches bring their boxes to Southside Baptist Church, as well. The church takes all donated shoeboxes to Kirksville, which are taken by trucks to eight processing plants around the country.  What started with 11,000 boxes in 1993, has now grown to 11 million, all that will be dispersed to children in 100 countries, who also get the option of learning about Christianity. The United States donations are relied on heavily, as they make up most of the donations.
Mary says watching the videos of children receiving the boxes is something she really enjoys.
Perhaps one of the most moving topics of conversation with Davis about Operation Christmas Child was hearing about how some children just hope for and appreciate the smallest things most take for granted.
Mrs. Davis goes on to say people pack all kinds of things into their shoeboxes, from soap and washcloths to pencils and notebooks to homemade items like jump ropes made from old t-shirts. She thinks "it's really cool, the things that you can do" when coming up with ideas for items to send to needy kids.
She happily gives her personal contact information (660-542-0410) for anyone who would like to donate a filled shoebox this year to Operation Christmas Child.
Southside Baptist Church is located at 301 Shanklin Street in Carrollton. The drop-off dates for filled shoeboxes are Monday, November 16, through Monday, November 23.
You can learn more about Operation Christmas Child here.