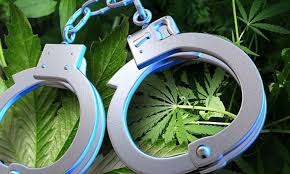 LEXINGTON, Mo.– Two Oregon residents who were arrested after officers allegedly found 150 pounds of marijuana in their truck are scheduled to appear in court today.
A probable cause statement indicates David Mortan, 46, of Grants Pass, Oregon, and Susan West, 58, of Azalea, Oregon were originally stopped by Deputy Sheriff Martin H. Dye of Lafayette County January 14, 2016, for expired Oregon plates.
Officer Dye noted several changes in the couple's stories after questioning the two about where they were headed and who they were visiting.
After being denied verbal consent to search the vehicle, Dye called in a K9 unit to conduct an open-area sniff of the vehicle when six large duffle bags full of marijuana were found in the back of the duo's 2006 Toyota Tacoma.
The total weight of the bags was approximately 150 pounds.
The two are charged with one count each of class A Felony drug trafficking in the first degree.
The duo is set to appear for a case review in Lexington at 3 p.m. today, October 3rd, 2016.