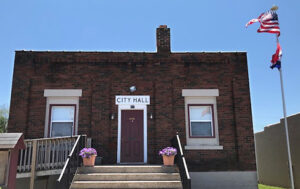 UPDATE: 9/13/2021, 2:14 p.m. – According to online court records, the lawsuit was dismissed on Aug. 3.
ORRICK — The city clerk and assistant city clerk of Orrick, a town of 900 in western Ray County, filed employment discrimination lawsuits against the city, specifically former Mayor Jordan Waters on April 21.
In their petition to the court, Deanna Hufford, 57, and assistant clerk Cindy Lampton, 63, allege they were treated differently that their male counterparts from the "substantially younger" mayor. They allege discrimination based on their age and gender and are asking the 8th Circuit Court for a jury trial.
Both filed discrimination charges with the Missouri Commission on Human Rights in October 2019, citing age and gender discrimination as well as a hostile work environment with illegal retaliation. The plaintiffs were issued a notice of "right to sue" on Jan. 22.
According to their near-identical petitions, the alleged illegal employment practices began four months after Waters became mayor in August 2019. The plaintiffs contend they thwarted his effort to violate Missouri open records laws by attempting to remove municipal records from City Hall. City clerks are responsible for the maintenance of records. The suit also states Waters wanted to become bonded, so he could obtain his own keys to City Hall for "after hours meetings and matters."
"Waters was attempting to gain access to City Hall after hours, and potentially permit himself and others access to documents that Plaintiff Hufford was charged with protecting and maintaining as the appointed custodian of records," the suit states.
Waters allegedly changed the locks to enter City Hall without their knowledge.
Hufford and Lampton also say the former mayor wanted the community room inside the small building for his office. They contend he became irate and angry after both women told him laws and procedures had to be followed before changes could be made.
"Waters spoke down to Plaintiff (Hufford) and her assistant Lampton, yelled at them, berated them and treated Hufford and Lampton as if they were incompetent," the suit says, adding he questioned the importance of those positions.
According to the suits, Hufford and Lampton reported Waters behavior to the Orrick city attorney and members of the city council in August 2019.
Hufford has been city clerk since January 2014. Lampton, a former Orrick mayor during the 2014 tornado and its aftermath, has been employed as assistant clerk since 2016.
Waters did not run for re-election. Sole mayoral candidate Robert "Tommy" Schreier captured nearly 94% of the vote on April 6.