RAY COUNTY, Mo. — An incident in early May has resulted in charges filed against a resident of Orrick.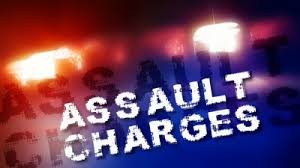 According to a probable cause statement filed in the Ray County Circuit Court, Kurtis Branham, 56, of Orrick, allegedly threatened to kill an unidentified woman in a number of different ways.
A deputy with the Ray County Sheriff's Office responded to the 300 block of Redmond Street in Excelsior Springs on Thursday, May 4 to reports of a domestic assault.
Upon arrival, the victim told the investigating officer that Branham had shoved the unidentified woman's head through a window at his residence in Orrick before lighting a rug on fire in the living room.
Branham allegedly then choked his victim and held a knife near her neck and face and threatened to stab her multiple times. He told his victim "she would end up like her sister, who had been murdered by her boyfriend," according to the probable cause statement.
As the victim was attempting to flee her aggressor, Branham is alleged to have fired a rifle at her, however missed his target.
When law enforcement made contact with Branham at his residence in Orrick, a rug, which appeared to match the victim's description, was observed smoldering in the home's driveway.
Formal charges were filed Wednesday in Ray County. Branham is now charged with one felony count of first degree assault and another felony count of unlawful possession of a firearm. He is also accused of two counts of felonious domestic assault in the second degree as well as a single felony count for exhibiting unlawful use of a weapon. A single misdemeanor second degree property damage charge is also leveled at Branham.
The suspect was taken to the Ray County Jail to be held. Bond for Branham was set at $50,000, cash only, with special conditions applying if bond is posted.
A court date has not yet been set by a judge in Ray County.