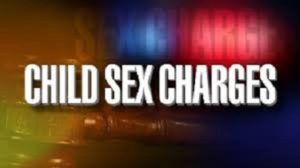 ORRICK, Mo. — Formal child sex charges were filed on Feb. 19 against an Orrick man in Ray County Circuit Court. Elliott Brook Rice, 38, is charged with 10 felony counts, including four counts of statutory sodomy of a child less than 14 years old and sexual exploitation of a child for incidents occurring from 2017 to 2020.
A forensic interview by Synergy Services, Inc. and Ray County Sheriff's Office was conducted in June 2020. A month later, Ray County Prosecutor's Office requested Missouri State Technical Assistance Team (STAT) to investigate reports of sexual assaults. The child told investigators — and showed on anatomical body drawings — where Rice inappropriately touched her, according to Jeff Glandson, senior investigator for STAT. Rice allegedly took photos or videos on his iPhone during some illicit encounters.
Rice is currently being held on a $25,000 cash-only bond in Ray County Jail. On Friday, Ray County Prosecutor Camille Johnston asked for a change of judge in this case, which was granted on Monday, Feb. 22, by Carroll County Associate Judge Joe Don McGaugh. The case will now be transferred to the clerk of the Missouri Supreme Court for re-assignment.