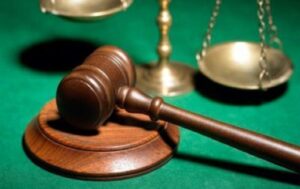 GALLATIN — An Osborn man has been charged with second-degree murder in the death of DeKalb County Sheriff Andy Clark.
According to the probable cause statement, Gary Downs, 34, is charged with second-degree murder while attempting to flee from another crime causing the death of another, attempted escape from custody and resisting arrest.
The incident began around 11 a.m. on June 3 when DeKalb County Sheriff's Capt. Tracy Neill responded to the theft of a 12-pack of beer from Casey's Convenience Store in Maysville. Downs sent Neill on a high-speed pursuit, speed reaching more than 100 mph and racing through US-36 Highway.
Upon stopping him south of US-36, Neill observed Downs' eyes were watery and bloodshot, his speech was slurred and a strong alcoholic scent on his breath. Downs was placed under arrest.
Neill did not have a set of handcuffs on hand, so she requested assistance from Sheriff Andy Clark. While Clark was on his way to the scene, Downs was attempting to escape from the rear passenger compartment of the patrol car. Neill struggled to keep Downs in the car, and asked Clark via radio to "step it up."  Neill tried to keep the patrol vehicle door closed by pushing against it from the outside. In the midst of the struggle, she spotted emergency lights less than a mile away, which she believed was Clark. Downs was able to overpower Neill, pushed the rear door open from the inside and escaped left the scene on foot, according to the probable cause statement. Clark was involved in a traffic crash on his way to the scene.
According to the probable cause statement, Clark's patrol vehicle was struck by an eastbound vehicle on US-36 as he crossed southbound toward Route M with emergency equipment activated. He was about 1/2 mile away from the scene of the traffic stop.  Clark was transported to MOSAIC Life Care Center in St. Joseph, where he was pronounced dead.
Downs is held without bond in the Daviess-DeKalb County Jail. The Oct. 23 hearing is at 2:30 p.m.