JEFFERSON CITY, Mo. — An aggressive weed commonly known as Palmer amaranth has been showing up in southeast Missouri fields seeded for pollinator habitat and is starting to concern farmers in the North.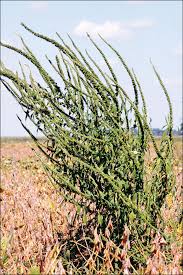 Click play below to hear KMZU's Amanda Wagner speak with Blake Hurst, Missouri Farm Bureau President.
Once this weed becomes prominent, it is nearly impossible to get rid of. The U.S. Department of Agriculture has promoted the creation of habitat for honey bees and other pollinators in the past because of the important role these species play in agricultural production.
"There's a whole family of pigweeds," said Hurst. "…and Palmer amaranth is kind of the worst of the bunch. It's a very large, very aggressive weed that reproduces literally hundreds of thousands of seeds per plant. It has also shown the ability to develop a pretty quick resistance to herbicides as well, so its a nasty weed."
The Missouri Farm Bureau reports that Palmer amaranth's presence in Missouri in the past was limited to the southeast area of the state.
For more information or questions regarding seed testing contact the Missouri Department of Agriculture at 573-751-4310. For questions about USDA pollinator habitat programs contact the USDA.