KANSAS CITY, Mo. (NAFB)– The NASCAR Sprint Cup Series made a stop at the Kansas Speedway outside of Kansas, City, Kansas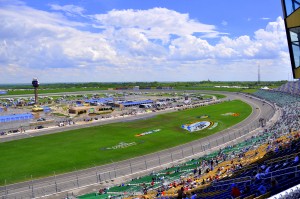 Saturday night for the Go Bowling 400. NASCAR uses an E15 blend of fuel on the track. National Corn Growers Association board member John Holzfaster says the use of ethanol in NASCAR is "a win" for NASCAR and American farmers.
"It's a cleaner, friendlier fuel for the race teams to use and those of us that are involved in the ethanol industry realize how valuable it is to get that message out to folks. With an estimated 75 million avid NASCAR fans out there, they are a great group of people to get that message out to, and to help us spread the good news about ethanol and the environmental aspects of it, the energy independent component, and the rural economic component of ethanol."
NCGA uses a large display in the NASCAR Fanzone, a place where fans can gather at the track and learn more about ethanol. "NASCAR is well known for how loyal their fan base is, and we take advantage of that. We put a display out in the fan zone to help interact with those fans, and answer any questions, and give them information and materials so they can better understand ethanol," said John.
He says the race over the weekend, along with other races throughout the year, gives the ethanol industry the opportunity to put the face behind ethanol for consumers. "Not only here in Kansas, but also in places like Sonoma, California and Dover, Delaware those folks don't have the opportunity to interact with farmers and corn producers like most folks will have the opportunity to do here in Kansas."
Just 6 short years ago NASCAR made the decision to go NASCAR Green and Holzfaster says. "American ethanol was a cornerstone for that. A cleaner burning fuel that was actually more efficient, and more energy dense for the race teams to use. The race teams love it. It's a better fuel, and its better for the environment, and it's better for agriculture." NASCAR uses Sunoco Green E15 – a 15 percent ethanol blend bio-fuel ,reducing greenhouse emissions by 20 percent while increasing horsepower.