LAFAYETTE COUNTY, Mo. – A rollover accident in Lafayette County sent two people to the hospital Tuesday morning.
According to the Missouri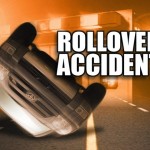 State Highway Patrol, 25 year old Dylan Orosco of Dinuba California was eastbound on Interstate 70 near the Auilville overpass just before 10:00 a.m. when he lost control of his vehicle and traveled off the right side of the roadway. The vehicle began to overturn and Orosco's passenger, Danielle Quintero, 26, of Columbia Missouri was ejected.
She was flown to University Medical Center in Columbia with serious injuries. Orosco was transported to I-70 Medical Center with minor injuries.