SALINE COUNTY, Mo. – A passenger was injured during a rear end collision in Saline County Saturday afternoon, October 24,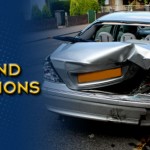 2015.
According to the Missouri Highway Patrol report, the accident occurred on westbound Interstate 70 about five miles East of Marshall Junction when Nicholas Atkinson, 18, of Marshall overtook a vehicle driven by Andy Heitman, 52, of Washington. The Heitman vehicle traveled into the median and struck a cable barrier.
A passenger in the Heitman vehicle, Kimberly Peters, 46, of Belleville Illinois was transported to Fitzgibbon Hospital with moderate injuries.