JAMESPORT, Mo— Going around the world by one mode of transportation or another has been a goal set by many explorers and adventurers since the Magellan-Elcano expedition in the early 1500's. A woman from Whales has decided to go by pony. Click play below to listen to KMZU's Ashley Johnson visit with traveler Megan Lewis about her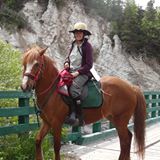 journey thus far, her experience in Missouri, and goals for the remainder of the trip:
From Beijing to London, then London to North America's east coast, and finally to the Midwest's Show-Me state; Megan Lewis is riding her pony, Lady, around the world.
During her unique, equestrian exploration, Lewis has had broken ribs and punctured a lung, she's been stuck in no man's land for two days waiting to get into Ukraine, then stuck in Ukraine for three weeks waiting to cross the border into Hungary. Now, Lewis said she has finally made her way to Missouri and despite all of the ups and downs; she is still loving the adventure.
"I've ridden since I was a child and I've always loved riding horses and also traveling by horse or just getting around by horse when I used to go ride around up on the mountains in Whales, which is where I came from as a child," Lewis explained her passion for the sport, "I'm from Whales and from a very rural background and the people used to use, in those days, pony's for shepparding and I actually started to learn to ride on my uncles shepparding pony."
While Lewis has seen a vast range in scenery and met many people, she said the Show-Me state and its residents have
been a joy.
"Certainly when I've been going through Missouri, I mean I think that the hospitality that I've received, as I've been travelling, has been absolutely immense," expressed Lewis, "And I'm very very thankful to have people of helped me on the way."
Lewis plans on being to St. Joseph by the end of autumn, where she and her 11 year old, Newfoundland part-bred pony, Lady, will be waiting out the winter. When spring 2016 arrives, Lewis said they will set out on the old Pony Express trail and take the more than 2,000 mile trip to San Francisco, California.
Once making it to her final destination, beautiful California, Lewis will hang up her saddle… at least for a while.
"I'm just going to have a long rest," Lewis reminded listeners of the long trip and stated, "I don't think I'm going to be looking for anything else just at the moment."
To follow Megan Lewis and Lady on this long expedition, find her on Facebook at facebook.com/thelonghorseride.