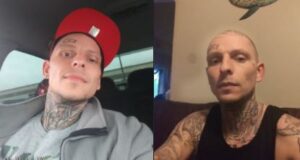 UPDATE: 2/19 – A murder suspect was taken into custody Friday morning, who was being sought by Belton police.
Officers say, Charles Baldwin Jr., 38, has been charged with 2nd degree murder in the death of Christopher Bell of Lee's Summit. He was arrested in Grain Valley. Baldwin Jr. is held on $500,000 cash bond.
BELTON, Mo. — Belton police are now seeking public assistance in locating an individual in reference to a homicide investigation.
A person of interest is described as Charles E. Baldwin Jr., 38, who is 6-foot tall, weighing 160 lbs., with distinctive tattoos on the neck and face. The suspect vehicle is identified as a red BMW sedan with unknown plates.
A Lee's Summit man, Christopher Bell, 39, is said to be the victim in the homicide. Anyone with information may call Belton Police or the TIPS Hotline. (816-331-1500/816-474-TIPS.)