PETTIS COUNTY, Mo. –  Two people were injured during a collision in Pettis County Wednesday night, January 27, 2016.
The crash, reported by a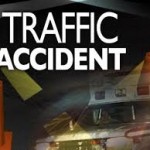 KMZU listener, occurred on Highway 50 at Highway O shortly before 8:00 last night when a southbound vehicle driven by Dilon Pettis, 19, of Hughesville, failed to yield at a stop sign. Pettis ran into an eastbound vehicle driven by Scott Miller, 44, of Otterville. Both vehicles traveled off the South side of 50 Highway and Miller overturned.
A passenger in the Pettis vehicle, Seth Wollery, 19, of Sedalia was transported to Bothwell Hospital with minor injuries. Miller was transported to University Hospital for treatment of moderate injuries.