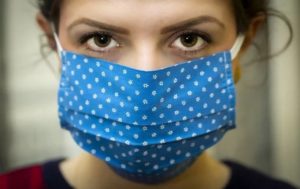 SEDALIA — After an hour-long public hearing that drew at least 150 people, Pettis County Health Center's Board of Trustee approved a face mask order on Wednesday night at Convention Hall at Liberty Park.
The measure passed 2-1 by the board and health center administrator JoAnn Martin. It will go into effect at midnight on Friday, Aug. 7 and will remain in effect until it's rescinded by Martin or the board.
The meeting was recorded and can be seen on the Health Center's Facebook page, generating more than 11,000 views and nearly 2,000 widely-ranging comments.
The order requires a face covering in public indoor spaces — including work places, hotels, restaurants and churches — which cover the mouth and nose "simultaneously." However, masks are not required at the youth livestock shows at the Missouri State Fair in Sedalia next week. Health officials told KMZU they are asking fairgoers to wear masks, stay in family groups and socially distance when possible. Employees who work in solitary, enclosed work spaces are also exempt from the requirement.
The Sedalia School District will decide whether to require masks at their schools at its Monday board of education meeting. An area of concern is the busing of students in a safe way to avoid the spread of COVID-19, health officials say.
"The burden of COVID-19 is increasing in our community," Martin told the Sedalia Democrat. "The burden is not just those who are ill but also all of those who have been exposed and are required to stay home. This is impacting employers, workers, families, health care facilities and the community in general."
As of Aug. 6, Pettis County has 114 active cases of COVID-19. Among them, 8 individuals are hospitalized. Its total to date of confirmed cases is 461.