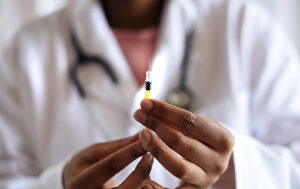 JEFFERSON CITY – As more populated areas of the state go forward with Phase 1b of Missouri's COVID-19 Vaccine Plan, numerous rural counties are still at square one — without any vaccine.
Carroll County Public Health Department Administrator Bertie Hartwig:
Her health department is enrolled as a vaccination center starting with Phase 1B, which started Monday. However, the department hasn't received any vaccine. She and her staff are still awaiting to be vaccinated.
The same is true in Randolph County. Public health administrator Sharon Whisenand:
In Ray County, public health officials and its county hospital notified residents on Friday it doesn't have vaccine to go forward with the next phase at this time.
Even in counties with no hospitals – like Cooper and Chariton counties – are on hold. Chariton public health officials told KMZU on Friday they are waiting to learn their timetable to receive doses.
As Cooper County Public Health Administrator Melanie Hutton waits for her county's allotment from the state, she says she is now working with an out-of-county hospital to begin the getting some vaccine soon.
Statewide health experts are seeing the "haves" and "have nots" in the initial process of the rollout. Missouri Hospital Association Vice President of Public and Media Relations Dave Dillon:
Dillon says a component of Gov. Parson's rollout plan is equity – meaning the doses need to be distributed in both urban and rural areas.  He explains why that's important.
Hospitals are currently administering most the vaccine designated to patient-facing healthcare providers.
A federal contract with CVS and Walgreens chain pharmacies are vaccinating residents at long-term healthcare facilities, described as Phase 1a of the vaccine plan. According to state data as of Friday, about one-quarter of that population has received its first dose.
The first tier of Phase 1b which rolled out Thursday is for first responders, public health officials and teachers.
The second tier, which starts on Jan. 18 is for high-risk individuals. The state has defined that group as people age 65 and older – and those with cancer, chronic kidney disease, COPD, heart condition, weakened immune system due to an organ transplant, severe obesity, pregnancy, sickle cell disease and Type 2 diabetes. Individuals with intellectual or development disabilities are also included in this segment.
From phase 1 to 2, the state anticipates where vaccine availability may be limited, according to the COVID-19 Vax plan.
Health departments have been fielding calls and keeping the public abreast of COVID-19 information. Randolph County public health administrator Whisenand: