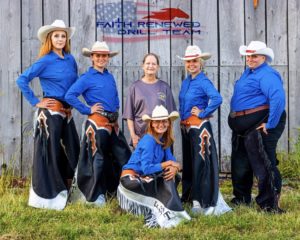 Faith Renewed Drill Team provides equine performances focused on honoring veterans. The organization is co-founded by Marlana Griffitt, who founded Faith Renewed Equine. Marlana explains to KMZU how Faith Renewed Equine got its start.
Working with several outreach services, Faith Renewed Equine is able to give veterans and their family members aid in finances,  counseling services, home help, or assistance with finding physical therapy services. The group offers veterans the opportunity to interact with animals and farm life experiences as an alternative to other forms of therapy when reacclimating to civilian life.
Griffitt says the operation is "veterans-funded" and ran by veterans. Any and "all proceeds made by the group go back into the organization to help veterans and their families with their needs."
Working near Marlana, seeing the help the equine services were giving to veterans, Dallas Shrewsbury decided to start Faith Renewed Drill Team. Marlana, who happens to be the Event Coordinator, explains what Faith Renewed Drill Team is.
Dallas Shrewsbury describes what to expect during a performance by Faith Renewed Drill Team.
The drill team performs at rodeos and other various events to acknowledge veterans, to show appreciation for the time served and honor those who gave their lives in service of others.
The drill team, of course, performs on horseback. Shrewsbury says most of the team members do have their own horses, but some are owned by the organization, which leases them out.
The Faith Renewed Drill Team is not-for-profit and is available for booking by contacting Dallas Shrewsbury here.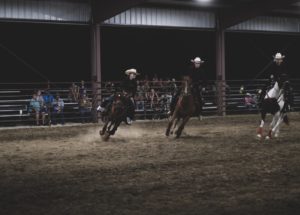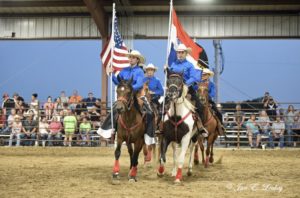 Faith Renewed Drill Team Members:
Marlana Griffitt – Founder of Faith Renewed Equine and Event Organizer for Faith Renewed Drill Team
Dallas Shrewsberry – Founder of Faith Renewed Drill Team, President and Captain
Machelle Mullanix – Co-Captain
Carmen Lindsay – Coach
Megan Dick – Member
Katherine Griffitt – Member
Katrina McWilliams – Member
Jessica Joiner – Member
Andrea Unterbrink – Member