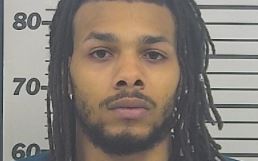 Sentencing has been scheduled for a Kansas City man who pleaded guilty to a drug-related murder Tuesday.
Platte county prosecutor Eric Zahnd, says Darius D. Miller, 22, pleaded guilty to second degree murder, delivery of a controlled substance, and armed criminal action in Platte County. Officers found two handguns and four mason jars containing more than 150 grams of marijuana near Kiran Logan's body following the incident in February.
Zahnd said the Kansas City region is "on pace for a record number of homicides," and "Too many young people are suffering violent deaths over small amounts of drugs."
Miller faces up to 20 years in prison. His sentence will be decided Oct 6.