PLATTE COUNTY, Mo. – The Platte County Sheriff's Office is investigating a robbery at the Wood Oil Gas Station on 92 Highway, near the 45 Spur.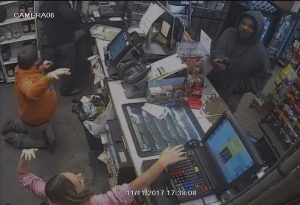 Deputies were called around 5:39 p.m., Saturday afternoon. Witnesses say two black males entered the gas station and robbed the clerks and a customer. One suspect was wearing a black South Pole Athletic hooded sweatshirt and the other a dark grey hooded sweatshirt. The South Pole suspect was armed with a silver handgun. The suspects left in a newer grey vehicle, believed to be a Ford Escape.
Anyone with information is asked to call the Platte County Sheriff's Office at 816-858-3512 or the TIPS hotline at 816-474-TIPS (8477).