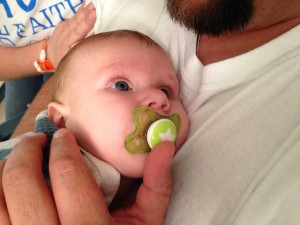 By now, you've probably heard of the Plunge for 5 month old Baby, Landon Shaw. Landon was diagnosed with stage 4 brain cancer back in February of this year. This viral activity has helped raise on the plus side of sixty five thousand dollars and has generated more than 30,000 likes on facebook.
The plunge is simple. You record a video of yourself by stating your name, and challenging at least 3 people to do the plunge. Then you state that you will donate X amount of dollars for every person that participates, then you just jump in! You don't have to be challenged to participate, but you can just start your own.
Representative Mike Thomson took the Plunge for Landon at Mozingo Lake after being challenged by Congressman Sam Graves. Thomson, in turn, challenged the entire House of Representatives, because as he stated, it was the only time he could nicely tell them to go jump in a lake.
Thousands of individuals, young and old, across Northwest Missouri, all over the country and even around the world have all accepted the challenge. At last count, people in nearly every state had participated, as well as in growing numbers of countries.
Donations can be made online to parents Brandon and Alyssa Shaw through Paypal at [email protected] (choose send money to friend of family, not merchant) or checks can be written to "Landon Shaw" and sent to the Flower Mill, 606 Main Street, Tarkio, MO 64491.