Columbia, Mo. – Columbia Police were dispatched to a shots fired call at Spencer Avenue and Worley Street around 8:48 Thursday night.
Officers found a male subject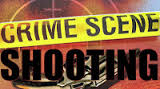 in a residence that had been shot in the leg. Officers stabilized the injury until the victim was transported to a local hospital. Several shell casing were found in the 700 block of Spencer Avenue and at least one other home and a vehicle were struck by gunfire.
If you have any information about this incident, please contact the Columbia Police Department or Crimestoppers.