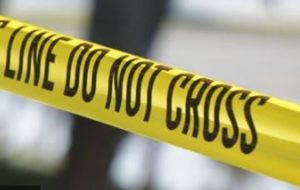 UPDATE: 12:31 p.m. July 14, 2020
Branch was formerly stationed at Whiteman Air Force Base, as confirmed by public affairs officer Lt. Braxton Williams. He separated from the air force and Whiteman in October 2019. 
UPDATE: 9:10 a.m. July 13, 2020
The Warrensburg Police Department identified Cameron N. Branch, 23, of Warrensburg, as the person who was shot and killed around 10:43 p.m. Saturday, July 11.
Police say they were responding to the 100 block of East Hunt Street when they received another call about a shooting victim at Jerry's One Stop, 712 S. Maguire.
Once at the Hunt Street apartments, a resident told police that two males tried to force their way into his apartment. One, the resident says, was armed with a gun, as the two alleged intruders tried to force their way into his apartment (according to the police report). The resident told police he fired his gun at the 2 males and then shut his door. Officers followed a blood trail from the apartment to Jerry's One Stop where Branch was found. He was transported to Western Missouri Medical where he was pronounced dead.
Policy say they obtained a gun that one of the suspects left at the apartment scene.
WARRENSBURG — A shooting in Warrensburg Saturday night was reported by police in the 100 block of East Hunt St.
Officers took a report from a resident who claimed he fired a weapon at two males who tried to force their way into the apartment during an apparent home invasion. One of the alleged interlopers was also armed with a gun, which was abandoned at the scene. Police said the shooting victim collapsed at a gas station on South Maguire. The suspect, a 23-year-old Warrensburg resident, later died at an area hospital.
An investigation is ongoing.