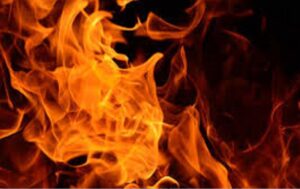 CHILLICOTHE, MO – One resident in Chillicothe remained inside a building as fire crews responded to an emergency call late Sunday night.
Smoke was seen coming from the structure as firefighters arrived. They were allegedly informed by police, one occupant refused to exit the basement where the fire was located. The person was eventually removed by police before fire officials were able to extinguish flames coming from a bedroom of the structure in the 1500 block of Jackson Street.
The fire reportedly caused damage to water lines, which were shut off, along with other utilities.
Charges are being considered by police regarding the cause of the fire. A suspect has been identified. The scene will also be investigated by the State Fire Marshal.
No injuries were reported.