KANSAS CITY, Mo (NAFB)— Beginning Thursday, pork producers from throughout the country will be in Indianapolis for the National Pork Industry Forum.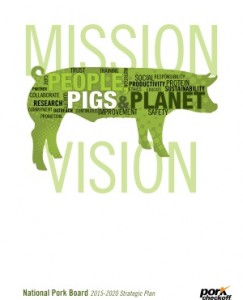 This is the business meeting for the National Pork Board and the National Pork Producers Council. According to Pork Checkoff spokesperson Cindy Cunningham, Forum has a full agenda.
"One of the key topics that we'll focus on at Pork Forum this year is antibiotics." Cunningham explained, "Antibiotics has really been a critical issue to pork production of late. We know that consumers are very focused on their food and that much attention has been centered on the role that antibiotics play on meat production. We want to make sure that we're producing healthy pork so that we get good, safe food."
As of January 1, 2017, the Veterinary Feed Directive takes effect. That will change the way producers raise their pigs.
"One of the things that we'll be doing during Pork Forum is really working with producers to help them understand how they can implement this change on their farm and where they can get more information." Cunningham noted, "If a producers not able to attend Pork Forum to get this information about the antibiotic changes on January 1, 2017, they best place they can go is Pork.org to get more information on what they need to be doing today on their farm to meet these new regulations."
The National Pork Industry Forum will be held Thursday, March 3rd through Saturday, March 5th in Indianapolis.
For more information, producers can contact the Pork Checkoff Service Center by going to Pork.org or call 800-456-PORK.