MOBERLY, Mo. – Moberly Police are investigating after two residents died of gunshot wounds Saturday night.
At approximately 8:06 p.m., officers responded to a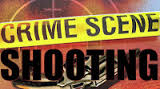 report of someone being shot in the 600 block of South Ault Street. A female, 49, was found lying in the street with a possible gunshot wound. A man, 60, was found deceased with a possible self inflicted gunshot wound in the residence.
The investigation, by the Moberly Police Department, the Missouri State Highway Patrol, the Randolph County Sheriff's Department and the Coroner is ongoing.