HENRY COUNTY, Mo. – A preliminary hearing is scheduled in a Henry County homicide case today, September 25, 2015.
According to court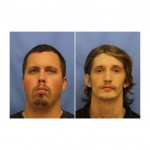 documents, Phillip A. Hayduke, 20, of West Plains Missouri is on the docket for a 1:30 p.m. hearing. Hayduke and co-defendant Blake Jamison were charged with first degree murder after the shooting death of Justin Emmerton in June of 2013.
Emmerton's body was found weighted in the Grand River near Urich Missouri with several gunshot wounds.