WASHINGTON D.C. – The Department of Homeland Securities Federal Emergency Management Agency announced today, January 2, 2016, that federal emergency aid has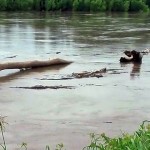 been made available to the State of Missouri.
President Obama signed an emergency declaration earlier this evening. The presidents action authorizes FEMA to coordinate all disaster relief efforts which have the purpose of alleviating the hardship and suffering caused by recent storms and flooding. Seventy Three Missouri counties and the City of St. Louis are authorized to receive assistance in saving lives, protecting property, public health and safety.