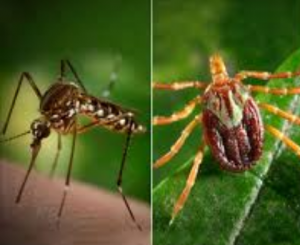 JEFFERSON CITY, MO – The Missouri Department of Health and Senior Services is reminding residents to take precautions against tick, and mosquito borne illness this summer.
Reported illness in Missouri increased threefold between 2004 and 2016, along with nine new diseases having been identified over the same period. Missourians are encouraged to use insect repellent and check for ticks after spending time outdoors. Emerging tick borne illnesses include Rocky Mountain Spotted Fever, Ehrlichiosis, Bourbon virus, and Heartland virus. Symptoms typically begin within two weeks of a bite, and include sudden fever, and body aches.
The Centers for Disease Control recommend using insect repellant with a minimum 20% DEET on exposed skin and clothing. For use with sunscreen, allow the sunscreen to dry and apply repellant afterward. Wear light colored, long sleeved protective clothing while outdoors.