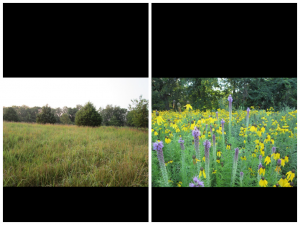 The private land services division of the Missouri Department of Conservation serves thousands of landowners each year by helping them transform their property through a variety of services. Click to hear KMZU's Kristie Cross speak with Division Chief Bill White:
According to White, his team has the experience and know-how to help property owners achieve their goals. "We have approximately 50 staff scattered around the state that work with private landowners to work up plans for wildlife habitats, forest management, and similar services," said White, "We do everything from wetlands, prairie, forest, and crop ground."
The pictures above are from a resident who recently took advantage of the service with excellent results. "This particular landowner was interested in doing some bobwhite tail habitats,"said White, "With bobwhite tail, the more diversity you have in planting, the better it is for the quail. That also benefits a myriad of other species including deer, rabbits, turkey, and even pollinators."
While the services of the Department of Conservation are free, White estimates that a transformation costs approximately $200 per acre in supplies.   More information can be found on the Missouri Department of Conservation website.