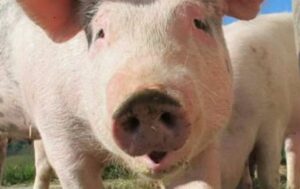 LIVINGSTON COUNTY, Mo. — An application for a concentrated animal feeding operation in Livingston County has been withdrawn for a second time.
The proposed CAFO has drawn opposition from environmental activists and residents who are responsible for a lawsuit against the project. They accuse the Department of Natural Resources of making it easier for United Hog, which is owned by Marshall resident Robert Zeysing, to complete the project.
The litigation concerns, what is termed, an emergency rule change in how the DNR defines ground water, taking exception to shallow or perched water.  The change under former governor Eric Greitens was couched as a return to previous definitions.
The proposed site, according to Kansas City Star, is massive; with the approximate size compared to three football fields.
United Hog initially withdrew a proposal to submit another plan for a larger operation. It's unclear whether another proposal will be submitted.  Jeff Browning, with Missouri DNR, said United Hog decided "not to construct"  the currently proposed farm.