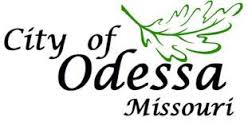 ODESSA, Mo – A public hearing in Odessa, Monday evening, entertained no comments regarding the city's performance with implementing  improvements to Johnson Drive.  The project included curbing and gutters, along with an enclosed drainage system.  One section of the street was widened to comply with State standards.
Odessa landlords could be facing more responsibility for utility collection from tenants, through potential city requirements.  Discussions Monday evening brought up close to $230,000 in unpaid utility charges over 120 days old.  The problem reportedly stems from repeated tenant turnover at relatively few properties, when they leave without paying utilities.  A state statute may allow the city to collect unpaid bills from the person who owns the property.  According to the interim City Administrator, Sid Rustman, many municipalities use the statute, or develop an ordinance along the same lines.
Currently, the city sends the bill to the tenant, and also a copy to the property owner.  The city may contemplate future ordinances in which, properties cannot be rented until back utilities are paid, property owners are required to have utility accounts in their name, or require them to set higher deposits to cover delinquent accounts.
The city is facing a time crunch in order to remain eligible for funding from a Community Development Block Grant.  A lengthy project at the southeast water treatment facility is at a standstill due to disagreements between a contractor and engineering firm as a January due date looms ahead.  The firm alleges they heard complaints and excuses from the contractor, expected to remove an amount of sludge from a lagoon near the facility.  The contractor, conversely, contends that engineering plans were changed mid-drift, altering the ultimate value of the project, the scope of work, and also the due date for CDBG purposes.  Alderman Steve Wright voiced the opinion of the council, that time was of the greatest importance.
Any order to qualitatively change the project could not extend the due date, but could increase spending for the project.  Aldermen told both parties, they could have what they needed, but the project, which is due for completion in mid-January, must be completed on time.
In the coming days, an emergency change order to the agreement may be ratified.