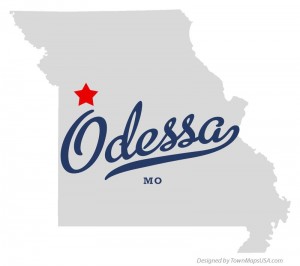 ODESSA, Mo – The Odessa Board of Aldermen met for their bi-monthly meeting Monday, August 10, 2015.
The agenda contained a brief public hearing upon the matter of a request by Concordia Bank to re-zone a portion of 2nd street for development purposes.   Citizen and lot owner Larry Jones of Odessa voiced the sole, public comment which decried what he called "spot zoning" in favor of a consistent zone throughout the block.  The request by Concordia Bank was later heard in a section of new business.
Click to hear public comments by Larry Jones.

Public comments during the meeting included the announcement of the VFW Fishing Derby which is set for Saturday, August 15, 2015.
Another public comment was from recent Odessa citizen, Daniel Meyers.  He proposed the board allow him to trap muskrats at the reservoir.  His proposition was a final step in a process taking months and also involving approval of the Missouri Department of Conservation.  A Conservation representative apparently had noted in a report that a muskrat problem was imminent at the reservoir.  However, city board approval was a necessary criterion according to the Conservation Department.  The Board will consider the request.
Several reports by the Mayor and Aldermen expressed satisfaction with Puddle Jumper Days indicating it was a great success.  Police Chief Newhouse said it went without major incident.
With no old business in the agenda significant discussions focused on the re-zoning request by Concordia Bank.  Aldermen at first reflected previous public comments discouraging "spot zoning."  Bank president, Brian Teichman spoke at length of the process undertaken to commence with the new development.  It was started in April of 2015 and included several meetings with the Planning and Zoning board.  He indicated that board eventually intended to consistently re-zone the block in question from residential to commercial.  There was also no need, in his opinion, to further delay the bank's development.  He also mentioned that any further delay would have adverse consequences for the bank in terms of deadlines.
Click to hear bank president Brad Teichman comment.

Another item of business was the awarding of a contract for the installment and maintenance of a west lagoon pump station.
Visit Odessa's website.