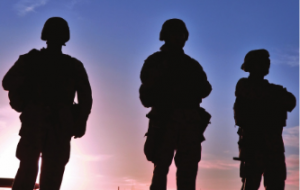 A recent study on veteran suicide rates revealed the tragic effect of invisible wounds many veterans carry on a daily basis. Retired Army Major Ed Pulido with The Real Warriors Campaign hopes to raise awareness on this mounting issue.
Click play below to listen to KMZU's Elizabeth Orosco speak with Major Pulido:
According to The Department of Veterans Affairs, an average of 20 veterans died from suicide every day in 2014. Total, 7,403 American veterans committed suicide, out of 41,425 suicides among U.S. adults that year.
Veterans often struggle with unemployment, social isolation, homelessness, addiction, depression, and have difficulty adjusting to civilian life.
While serving in Iraq, Major Pulido, a Purple Heart recipient, was severely injured from an improvised explosive device blast. Upon returning home, he experienced visible and invisible wounds including the loss of a leg and thoughts of suicide. With the support of family and friends, he overcame suicidal thoughts, and today has a successful civilian career as the senior vice president of public relations and military affairs for the Folds of Honor Foundation.
Major Pulido says the suicide rate among veterans is alarming, and he hopes to do his part.
"It's an issue that we at Real Warriors take to heart," Major Pulido said.
President Obama signed the Clay Hunt Suicide Prevention for American Veterans Act in February 2015, named after a Marine Corps veteran who reportedly waited months for help, and committed suicide in 2011, after struggling with post-traumatic stress disorder following deployment to Iraq and Afghanistan.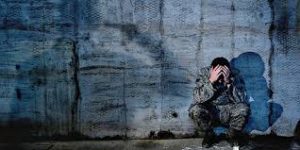 The bill requires independent reviews of VA and Department of Defense programs aimed at preventing suicide, creates peer support and community outreach pilot programs, and forms a program to repay loan debt for psychiatry students to incentivize them to work in the VA health system. It also creates a website to provide veterans with information about mental health services and allows the VA to collaborate with nonprofit mental health organizations on suicide prevention.
The Real Warriors Campaign aims to encourage help-seeking behavior among service members, veterans and military families coping with invisible wounds. Launched by the Defense Centers of Excellence for Psychological Health and Traumatic Brain Injury (DCoE) in 2009, the campaign is an integral part of the Defense Department's overall effort to encourage warriors and families to seek appropriate care and support for psychological health concerns.
The website offers help and resources for active duty members, veterans, families, and health professionals.
Resources for active duty members include tips for what to do before deployment, signs and symptoms of combat stress, building resilience, and how to adjust after deployment.
Veterans are able to get information on benefits available through the Department of Veterans Affairs, as well as coping and support resources such as job application assistance, tips on managing pain or stress, and how to translate military experience to civilian employment.
For more information and resources, visit www.realwarriors.net.
For crisis intervention, call the Military Crisis Line at 800-273-8225 (press 1)
For further information, contact the DCoE Outreach Center at 866-966-1020