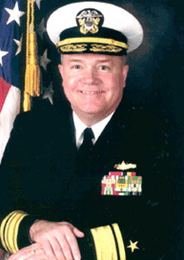 A 1970 Naval Reserve Officer Training Corps graduate from the University of Missouri, Rear Admiral J. Stanton Thompson's military career would span more than three decades. Thompson, a Slater native who now resides in Higginsville, was released from active duty in 1972. But 18 years later, he would be called to serve as a Commander in Operations Desert Shield and Desert Storm. He was promoted to flag rank in 1998. Click to hear KMZU's Chelsea Wade talk with Thompson:
Biography from Thompson
Rear Adm. J. Stanton Thompson retired July 9, 2005, after 35 years of service.
Rear Adm. Thompson's final assignment was Special Assistant for Reserve Matters to the Commander, United States Northern Command and North American Aero- Space Defense Command, Peterson Air Force Base, Colorado Springs, Colo., and was responsible for the integration of reserve forces into homeland defense and defense support to civilian authorities. He also served as a principal advisor to the Commander for maritime homeland defense. USNORTHCOM was created following the terrorist attacks of September 11, 2001. Rear Adm. Thompson was one of a handful of flag and general officers chosen to stand-up the command.
Rear Adm. Thompson graduated from the University of Missouri at Columbia in 1970 with a Bachelor of Science Degree (Majoring in Agricultural Business), and in 1974 with a Bachelor of Journalism Degree (Majoring in Advertising). He was commissioned through the Navy Reserve Officer Training Corps (NROTC), and was initially assigned to the USS Kilauea (AE-26) as gunnery officer, then cargo officer, and finally First Lieutenant (a department head position). During two extensive deployments, Kilauea supplied ammunition to U. S. Naval Forces conducting combat operations off the coast of Vietnam. He was released from active duty in September 1972.
Rear Adm. Thompson was recalled to active duty in September 1990 in support of Operations Desert Shield and Desert Storm. He served as Commander, Port Security Harbor Defense Group TWO, Port of Al Jubail, Kingdom of Saudi Arabia. As group commander he was responsible for the maritime defense of this strategic port.
From 1992 to 1995, Rear Adm. Thompson served as Commander, Inshore Undersea Warfare Group TWO, Williamsburg, Va. This command consisted of 14-commissioned hardware equipped Mobile Inshore Undersea Warfare Units (MIUWUs). As commodore he provided and supported MIUWU forces during Operation Uphold Democracy in Haiti.
He was promoted to flag rank in July of 1998 and assigned as Vice Commander, Maritime Defense Zone Pacific, Coast Guard Island, Alameda, California.